This page is part of © FOTW Flags Of The World website
British Arctic Territory Armed Forces
British Arctic Territory Flag Hoax
Last modified: 2017-05-13 by rob raeside
Keywords: british arctic territory |
Links: FOTW homepage | search | disclaimer and copyright | write us | mirrors

---
All "British Arctic Territory" flags are hoaxes, developed by Clay Moss et al. on April Fools' Days
See also:
---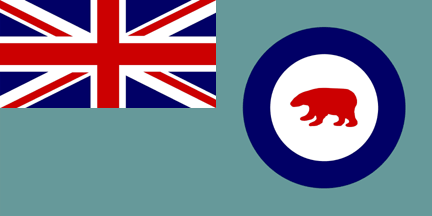 image by Clay Moss
The BAT Air Force flag and Civil Air Ensign were introduced on 12 March, 1996. I'm aware that the bears are still hovering, but in this case, it's most appropriate. The bear in the Air Force flag is red from sunburn at high altitude, and it coincidentally makes the BATAF flag appear to be related to the RAF flag. Before the sunburn incident, the roundel appeared to be sort of Scottish.
Clay Moss, 6 April 2005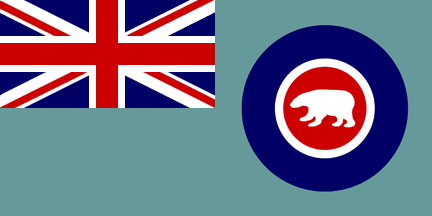 image by Clay Moss, 1 April 2017
The British Arctic Air Force is getting some much needed assistance from the Royal Air Force, Royal Australian Air Force, (formerly the British Arctic Royal Australian Air force), and the US Air Force. Each of these air forces has agreed to assist the BAT in training its Air Force pilots and technicians. From this point forward, any aircraft that is involved in training BAT pilots will wear the special distinguishing BAT Training roundel. Additionally, the newly approved BAT Flight Orientation Group BATFOG flag or ensign will be flown at station when any BAAF flight training operation is under way.
Clay Moss, 1 April 2017
The last issue I received of the VABAT Journal "The Royal Seagull" had an extra blank page tucked in. As I looked at it I thought I saw an impression of the word Navy, bringing back my own glorious Navy days. So I took a pencil to run over the page to highlight the letters.

It seemed to be a reference to the BAT Navy being very upset about all the attention the Air Force was getting. So they were in super-secret research to build a BAT submarine. Many words were indecipherable, but it looked like the dispute was to reject the whale shape and instead have a trout shaped submarine called Schubert (or was it Sherbert? I couldn't tell). Of course, that was rejected and it now will look like the Ogcocephalus Darwin, the Batfish. The delays were how to fit a ping pong table and bowling alley inside.

The biggest argument was about the color of the flag and how it should fly underwater. That's all I could read. Hope I'm not revealing any BAT secrets.
Lee Herold, 1 April 2017
---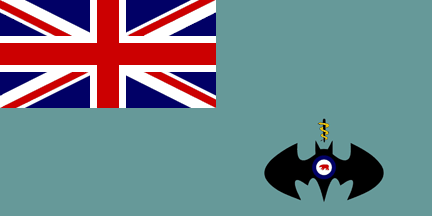 image by Clay Moss, 1 April 2017
A very hush hush group being formed within the BAT military establishment. They are calling themselves the BAT Medical Air Network, BATMAN.
What little we know is that the group's mission is medical and global in nature. We also know that the Association of Men named Clark Kent, AMCK generously donated vast resources, allowing the group to go into action rather quickly. Yep, they have a flag. Can you guess which one it is?
---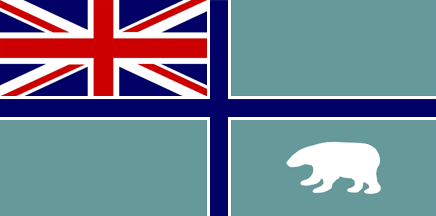 image by Clay Moss
I'm aware that some will believe that the arms of the cross on the BAT's civil air flag are too skinny. They are if compared to Britain's Civil Air Ensign. However, my illustration corresponds exactly in specification to the UK Civil Air Ensign in my collection.
Clay Moss, 6 April 2005
---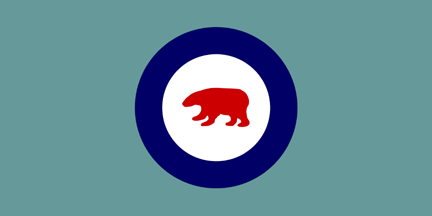 image by Clay Moss
It has become necessary to identify the stationing of air wing commanders as BAAF units are deployed globally. The BAAF wing commanders flag also became
official yesterday 1 April, 2006.
Clay Moss, 2 April 2006
---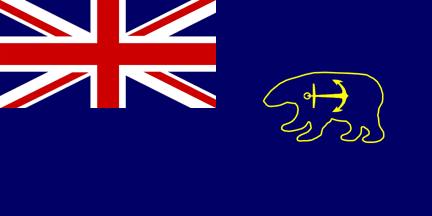 image by Clay Moss
Our version of the Royal Fleets Auxiliary is hoisted over only one ship at the moment. The HMS Narwhal currently serves with distinction here in the Straits of Malacca and has recently assisted in minor humanitarian relief duty. Like many Confederate Naval ships, the Narwhal has never seen its own home waters. I will send a picture soon, but you must promise not to laugh.
Clay Moss, 6 April 2005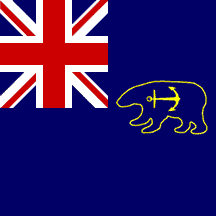 image by Peter Hans van den Muijzenberg, 1 April 2013
Technically, the BAT Blue ensign may be accompanied by a jack along with the Royal Fleets Auxiliary ensign.
Clay Moss, 21 October 2008
---
image by Miles Li, 1 April 2015
Apart from providing the same services as its English counterpart (lighthouses, buoys, deep sea pilots), it also operates an all-important fleet of icebreakers. Unlike its English counterpart though, vessels of the British Arctic Territory Trinity House does not have its own ensign, but fly the normal British Arctic Territory Blue Ensign instead.
Miles Li, 1 April 2015
The BATTH has applied for permission to use their flag as a jack when their fleet of ice breakers is at sea and in port. The DoV should rule on the request at any time.
Clay Moss, 1 April 2015
Here is the reply from the Admiralty:
"Please be advised that it is not necessary to seek official permission for BATTH icebreakers to fly the BATTH flag as a jack. It is a long-standing and accepted custom for ships to fly their appropriate house flags as jacks while in port or while dressing ship, and there is no law preventing the BATTH from doing the same."
Miles Li, 1 April 2015
Dear Prime Minister,
We are in receipt of your request of today's date with regard to the flying of the territory's flag as a jack by vessels in Government service, and would draw your attention to the Warrant which authorized the flying of a defaced blue ensign by such vessels. This warrant specifically also authorizes the flying of an accompanying defaced blue jack. It should be noted that such jacks are traditionally square with a defacement as per their accompanying ensign.
Trusting that this is sufficient for your requirements, I remain,
Respectfully yours on Behalf of Her Majesty's Government
Christopher Southworth (DoV author), 1 April 2015