This page is part of © FOTW Flags Of The World website
Italy - Yacht Clubs (Part 2)
Last modified: 2018-02-10 by rob raeside
Keywords: italy | yacht club |
Links: FOTW homepage | search | disclaimer and copyright | write us | mirrors

---
---
See also:
---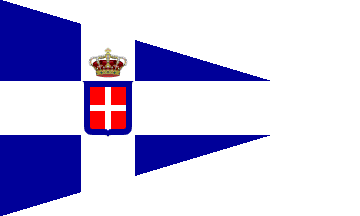 image located by Peter Edwards, 28 January 2018
Image: Lloyd's Register of Yachts, 1930.
Est: 15 July 1893.
Location: Santa Lucia Quay, Naples.
Burgee: Pennant 1:2. Blue field, superimposed by the shield and crown of Savoy fimbriated blue and centred on a white St. George's cross.
The club was established in 1893, as the Circolo Canottieri Sebezia, by eleven former members of the Circolo del Roma and della Vela Italia. The new club inherited a four-man rowing boat named Nautilus which they entered in the Naples-Capri-Naples race, but sadly three of the crew drowned. In August 1894, with a declining membership due to this loss, the club turned to King Umberto I for help and, in 1895, changed its name to the Yacht Club Canottieri Savoia. In remembrance of the three lost members the blue field of the burgee was changed to black. In 1900 King Vittorio Emanuele III granted the club the "Royal Circle licence" and the burgee's black field reverted to blue.
Acknowledgment: José Alegria for his assistance and clarification.
Peter Edwards, 28 January 2018
---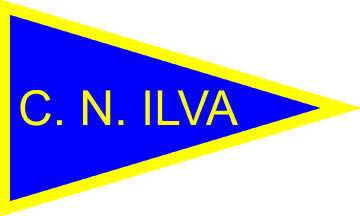 image by Jan Mertens, 24 February 2008
Circolo Nautico 'Ilva' is at Genoa/Pegli, Italy (website at <www.circolonauticoilva.it>). The 'Chi siamo' section links this sailing, diving, and fishing club to the Ilva company and Italsider steel factories. The burgee is blue with (complete) yellow border, bearing club name 'C.N. ILVA' in yellow letters.
The first page linked to shows a photo of said burgee hoisted beneath the flag of FIV (Federazione Italiana Vela).
Jan Mertens, 24 February 2008
---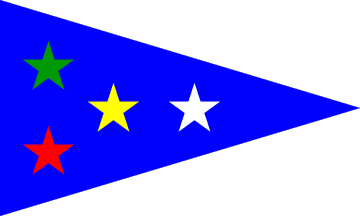 image located by Peter Edwards, 23 January 2018
Est: 1960.
Location: Porto Santo Stefano, Province of Grossoto.
Burgee: Pennant 3:5. "The Burgee of the club consists of a blue triangle with four stars inside, green, red, yellow, white."
Sources: Quote, Wikipedia. Image, http://www.ycss.it
Peter Edwards, 23 January 2018
---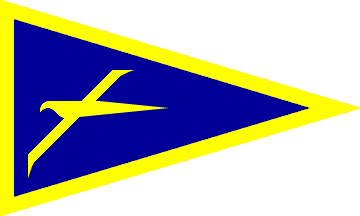 image by Jose C. Alegria, 12 February 2000
Well, the Louis Vuitton Cup is over. This competition is done to decide who will challenge the world most important sailing trophy: the America's Cup, and, for the first time since 1851, the America's cup race will have no boat from the U.S.A. competing on it. That's because New Zealand's boat won the trophy in 1995 and, now, the winners of the Louis Vuitton Cup, and , therefore, the challengers againts N.Z. will be Italians. Every boat must be presented by a yacht club, and New Zealand's defending Club is the "Royal New Zealand Yacht Squadron", Auckland, New Zealand. The challengers, the Louis Vuitton Cup winners are from the "Yacht Club Punta Ala", Punta Ala, Grosseto, Italy. The Club was established in 1976, and has no special Ensign privileges, therefore will be using the Italian civil ensign. Their burgee is blue+, with a yellow border 1/15 the height wide, and a yellow bird .
Jose C. Alegria, 12 February 2000
---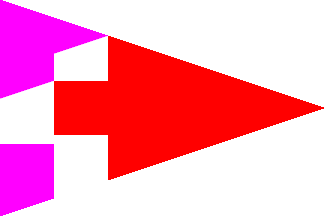 image based on www.ycr.it, located by Dov Gutterman, 3 April 2003
---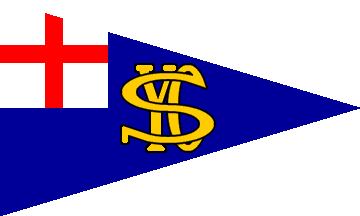 image from <www.federvela.it> , located by Dov Gutterman, 10 February 2000
---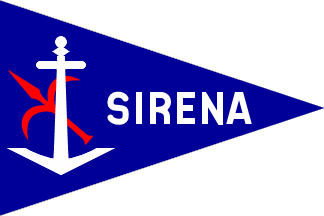 image by Eugene Ipavec, 5 October 2012
Seen in a 2001 issue of the Slovene newspaper Delo, a graphic of a prepaid phone card depicting (for some reason) the burgees of two sailing clubs organized by and catering to the Slovene minority around Trieste. The clubs are Triestine Maritime Club "Siren," Barkovlje - blue, logo near hoist: angular white anchor over the Trieste halberd in red and inclined ~50 deg. In the fly, the word "SIRENA" in white caps. and Sailing Club "Čupa," Sesljan - blue/white/blue, 1:2:2, in the center a red rhomboid 1/4 hoist height and touching the edges.
Eugene Ipavec, 5 October 2012
The full name of the club is in Slovenian and Italian: Tržaški pomorski klub "Sirena" Amatersko športno društvo / Club nautico triestino "Sirena" Associazione sportiva dilettantistica. See http://www.slosport.org/drustva/sirena.html. Established in 1924 and renewed in 1976. This site shows the burgee - with a slight difference from Eugene's drawing - the red fleur-de-lis is in front of the white anchor. The club web site is at http://www.tpkcntsirena.it/

Here: http://www.slosport.org/novice/2011/1103obcnizbor25TPKSirena.html one may see the actual burgee (used as a table flag) as well as the flag of the club, which seems to be rectangular blue flag ca. 3:5, with the same elements, but the emblem is in the centre and the inscription below it. A quick images search on Google with the club name reveals other photos of the flag in use. The club is member of both Italian and Slovenian national sporting associations.
Željko Heimer, 5 October 2012
---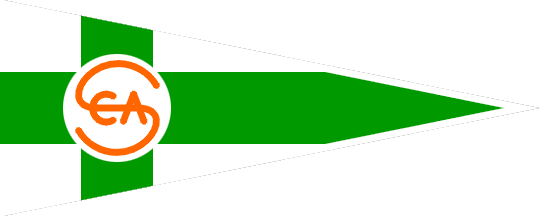 image by António Martins-Tuválkin, 26 January 2006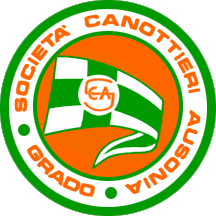 Logo
image by António Martins-Tuválkin, 26 January 2006
I am the House Chair at the South Coast Corinthian Yacht Club. Our ceiling of our Yacht Club displays all of the burgees of our guests and sailing trips since 1932. We were founded in 1932 by Humourist Will Rogers and Wiley Post in Santa Monica, California USA.
We are trying to identify a Yacht Club Burgee from Italy. It appears to have the inscription of Societa Canottier Ansonia Grado Italy with the logo in the center display of ASC and green stripes on a white background. The ASC are in a design so It may be SAC or CAS - we are not sure.
Rick Horner, 1 January 2006
It is the burgee of the Societá Canottieri Ausonia, located in Grado (Gorizia), Italy. They also have a sailing team. Burgee can be seen at www.grado-online.net.
Jose C. Alegria, 1 January 2006
The flagoid in the logo is a long white triangular flag with a very wide green cross throughout (width ~1/3 of the flag's height) but not touching the edge at the fly); on its center a white round disc (diameter ~1/2 of the flag's height) with an orange "SCA" on it: large "S" with small "CA" on its middle horizontal stroke.
António Martins-Tuválkin, 26 January 2006
---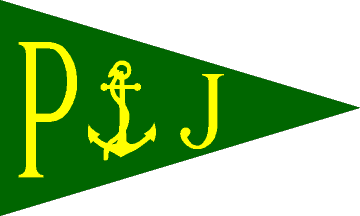 image by Jose C. Alegria, 28 March 2000
One of the oldest Italian yacht clubs is the Societa Nautica Pietas Julia, Duino Aurisina (TS), Italy. Established August 14th, 1886. Their flag is a green + burgee with the initial letters "P" and "J" ("P" to the mast and "J" to the fly) and a fouled anchor in the middle, all in yellow.
Jose C. Alegria, 28 March 2000
---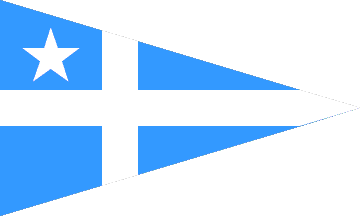 image by Jose C. Alegria, 29 March 2000
The yacht club Societa Triestina della Vela, Trieste, Italy, was established in 1923 as Filonautica Triestina and keeps the same flag, a blue - burgee with a white cross of St. George and a white star on the canton, designed then by Mario Lucas. Only the name was changed, in 1931.
Jose C. Alegria, 29 March 2000
---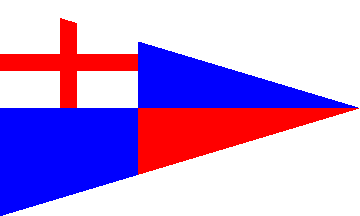 image by Ivan Sache, 26 September 2003
Pellerano Yachts flag at www.pelleranoyachts.it. More of yacht commercial house flag then a Yacht Club burgee.
Dov Gutterman, 22 January 2002
The burgee of Pellerano Yachts. The Pellerano company is located in Chivari.
Ivan Sache, 26 September 2003