This page is part of © FOTW Flags Of The World website
Macedonia: Coat of arms
Last modified: 2013-12-30 by ivan sache
Keywords: coat of arms: macedonia |
Links: FOTW homepage | search | disclaimer and copyright | write us | mirrors

---
See also:
---
Coat of arms adopted in 2009
A report by the Macedonian news agency MIA (16 November 2009) says that the law suppressing the red star from the national coat of arms was passed on 15 November 2009 by the Parliament; 80 representatives voted for, 18 against.
The law was published in the official gazette on 17 November 2009 and became valid on 25 November 2009. Since that date the new, starless coat of arms is valid, although the institutions are given certain amount of time to adapt. The deadline set for the state institutions and like to start using it is one year since the law validity date, so until 25 November 2010. For certain documents it is given longer deadline, two and even five years.
The VMRO-NP party is collecting signatures to get the old coat of arms of Macedonia ("Gules a lion or") restored as the national coat of arms.
Željko Heimer, Valentin Poposki, Jens Pattke, Esteban Rivera & Ivan Sache, 26 January 2010
---
Former coat of arms (1946-2009)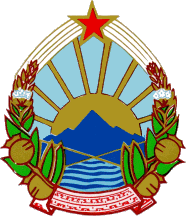 Former coat of arms of Macedonia, 1946-2009 - Image by Željko Heimer, 4 October 2004, adapted from WIPO IPDL database
The coat of arms of Socialist Macedonia used until 2009 is prescribed by Act on the Coat of Arms of the People's Republic of Macedonia, adopted by the People's Assembly of the People's Republic of Macedonia on its second extraordinary session held on July 27, 1946, later on altered by Article 8 of the Constitution of the Socialist Republic of Macedonia, as follows:
The coat of arms is framed by a garland of ears of wheat, tobacco and poppy, tied by a ribbon with the pattern of a traditional costume. In the centre of such a circular space there are mountains, rivers, lakes and the sun; where the ears join there is a red five-pointed star. All this represents "the richness of our country, the struggle and the freedom.
This coat of arms was retained as the coat of arms of the Republic of Macedonia after independence until 2009.

Željko Heimer, 1 January 2010

The Republic of Macedonia does not have a coat of arms. It still uses the emblem of the People's Republic of Macedonia, adopted by the Parliament on 27 July 1946 and which was designed in the same pattern like the other socialistic countries. The design is based on the emblem of the USSR.
Unlike the majority of the socialistic republics that had incorporated their traditional coat of arms in the new emblem, Macedonia has adopted a new landscape design, falling in the same category with People's Republics of Romania, Bosnia and Herzegovina, Montenegro and Slovenia.
This emblem represents the landscape characteristics of Macedonia: the mountains, the rivers, fields and the sun. The wreath represents the crops and is made of wheat, tobacco, cotton and poppies. On the bottom there is a ribbon with characteristic embroidery, and on top there is the five point red star, the symbol of the ruling ideology.

With the independence and the new constitution in 1991, the issue of the national symbols arose. The national anthem remained the same. The new flag was adopted: Red, a gold sun, often referred to as star of Vergina. Due to the dispute with the Republic of Greece, it was replaced by another, also displaying a golden sun on red.
The issue for the new coat of arms appeared to be more complex. The commision was appointed and an open public tender attempted to find solution for the new design. Most of the designs sent in were connected to the historical arms of land of Macedonia, Gules, a double queued crowned lion or (a yellow lion with double tail and crown, on a red field). This was mainly based on the works and research of Professor Aleksandar Matkovski, published in its book Coat of Arms of Macedonia. His resurch has shown that the traditional arms of Macedonia apperas to be the golden lion, traced down to the Armory of Korenić-Neorić dating 1595.
One of the most acceptable design was by Miroslav Grcev, Professor of Architecture, based on the traditional coat of arms of Macedonia. But this proposal didn't have political consensus due to several reasons described in the next paragraph, and therefore didn't even reach the Parliament. This proposal was raised several more times but with no success.

Opposition to this historical arms was mainly argumenting their standpoint with the following:
- several parties among which the leading VMRO-DPMNE had adopted those arms as their party arms from their beginning in 1990.
- Albanian parties were opposing that solution, blaming it for only representing the Macedonians (as people) and not others. These parties never accepted that this is arm of a region or a country but not of a people group.
- the issue the most used by the opposition is that it is a Bulgarian symbol. The explanation of this follows.

From the oldest known Roll of Arms of Korenić-Neorić from 1595 the Macedonian arms is Gules, a lion rampant doublequeued or crowned or, while the Bulgarian is Or a lion rampant gules. The situation is the same in older Roll of Arms since the Arms of Paul Riter Vitezovitch in 1694 and then in 1701 when he actually did his Roll by cutting the arms from an older version and gluing to his. The problem was that he cut only the arms without the banner bearing the name of the country, and confused the arms with lions.
So he made the mistake of replacing the arms. Then the mistake was translated to several other rolls that were copied from this, such as the Roll of Arms of Christopher von Zeffarovitch in 1741.
Since then we find different rolls of arms, one copied from Pavle Riter Vitezovitch with the mistake, and other copied from earlier version with the correct arms.
The problem became practical when Bulgarian state replaced the old socialistic arms with a new one: Gules a lion or. But this happened in the late 1990s so it is not the core of the problem. The lack of heraldic knowledge is.

However, there have been several attempts to conclude this open issue. Several suggestions were made:
- one was to recognize the design of the lion used by the main political party VMRO-DPMNE and other parties with the same prefix. This was pursued several times by various VMRO prefixed parties.
- a second was only to remove the star from the present emblem, mainly pursued by Nikola Popovski, the present day President of the Parliament.
- the third, was to place the present landscape motif on a shield (the so-called Slovene solution; Republic of Slovenia has used this model, placing the mount from the old socialistic landscape emblem on a shield, but adding the three stars from the traditional one).
There were two other similar suggestions, to adopt the motive from the flag. First, using the golden 16-pointed sun, which bears letter M and to wavy lines beneath. Second, to use the new design of the flag, placed on a shield which was to be encircled with two oak branches.

Jovan Jonovski, 4 October 2006