This page is part of © FOTW Flags Of The World website
Peru - Educational institutions flags
Last modified: 2015-01-23 by zoltán horváth
Keywords: universidad peruana cayetano heredia | coat of arms (snake) | snake | ch | spiritus uni vult spirat |
Links: FOTW homepage | search | disclaimer and copyright | write us | mirrors

---
See also:
---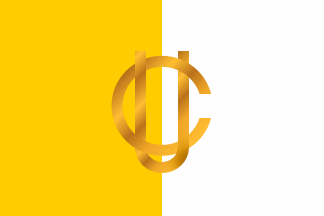 image by Eugene Ipavec, 08 January 2010
See http://americaninlima.com/2009/07/24/politicians-crisis-water-peru/ for a UFE, at least to me: a horizontal yellow/white flag with a golden interwoven "UC" monogram. A university?
According to common S. American practices, both flags show the emblems at an angle, meant for viewing indoors when furled, though I do not usually reproduced them as such.
Eugene Ipavec, 06 January 2010
This is the flag of "Pontificia Universidad Católica del Perú" (Pontifical Catholic University of Peru), founded on 24 March 1917 by the French-borne Reverent Father Jorge Dinthilac, who served as the first Rector of the (then) "Universidad Católica del Perú". On 30 September 1942, the university was granted the honorary title of "Pontifical" and the Archbishop of Lima and Primate of Peru became its Grand Chancellor.
The photo reported by Eugene was taken during the "Adapting to a World without Glaciers: Realities, Challenges and Action" conference, organized on 7-15 July 2009 at Lima by PUCP and other sponsoring bodies.
The flag of PUCP can be seen on a photo taken during the awarding of the title of Doctor Honoris Causa to Javier Pérez de Cuellar), shown on p. 10 of the official book of the university.
The PUCP photo albums contain several sightings of the flag, for instance:
- Graduation ceremony, 25 July 2008
- First Peruvian Congress of Analytical Philosophy, 23-25 June 2008
- Fourth Symposium of Students in Philosophy, 11-14 December 2008
Ivan Sache, 06 January 2010
A Catholic university was my first guess too, given the Vatican colors.
Eugene Ipavec, 08 January 2010
---
"Asociación de Egresados y Graduados PUCP" (AEG-PUCP), the association of the ex-alumni and graduates from PUCP, was founded in 1989.
Source: AEG-PUCP website

The flag of AEG-PUCP, as seen on photos taken during the 11th Ceremony to th Distinguished ex-Alumni (table and full-size flags), held at PUCP on 4 November 2008, is white white a golden fringe and the emblem of AEG-PUCP in the middle. The emblem of AEG-PUCP is made of a blue seven-pointed comet placed vertically and surrounded by two yellow half-ellipses, the whole surrounding by the name of the association in black capital letters. There seems to be somehting written in smaller letters below the emblem.
- PUCP image gallery, individual photos:
http://fotos.pucp.edu.pe/fotos/ver/14323/660/0
http://fotos.pucp.edu.pe/fotos/ver/14324/660/0
http://fotos.pucp.edu.pe/fotos/ver/14325/660/0
http://fotos.pucp.edu.pe/fotos/ver/14326/660/0
Ivan Sache, 09 January 2010
---


image by Ivan Sache, 06 November 2010
Colegio Inmaculado High School de Barranco was founded on 8 December 1995 by Dr. Abraham Cuadros Valdivia.
The flag of the institute is shown on the institute's blog maintained by Rafael Iriarte Torres as horizontally divided yellow-blue .
Source: http://rafaeliriartetorres.blogspot.com/2009/12/simbolos-del-colegio-inmaculado-high.html
A video footage of the patriotic parade held on 14 June 2009 confirms the flag (best viewed at 1:48).
Ivan Sache, 06 November 2010
---


image by Ivan Sache, 13 July 2014
Colegio José Gálvez was established on 10 November 1936 in Cajabamba (Cajamarca Department). Classes started on 2 June 1943 in a house rented from Gustavo Ramal Llave and eventually acquired in 1947. New buildings were inaugurated in 1985. The institute is named for the lawyer, professor and liberal politician José Gabriel Gálvez Egúsquiza (1819-1868). Appointed Secretary of War and Navy in 1865, Gálvez was killed on 2 May 1866 during the attack of Callao by a Spanish fleet, becoming a hero of the South American independence.
The flag of the institute is vertically divided red-blue. Every year, "andinists" (mountain climbers) from Colegio José Gálvez (ex-alumni, teachers and parents) celebrate the anniversary of "andinism" (initiated in 1954) on the top of Mt. Chochoconday, which dominates the town of Cajabamba. They hoist the national flag and the institute's flag and sing the institute's anthem.
Sources: http://www.cajamarca-sucesos.com/2014/articulos_de_opinion_2014/siempre_la_j.htm - Cajamarca Sucesos, 4 June 2014
http://www.panoramio.com/photo/72775799 - Photo, 2012
http://www.panoramio.com/photo/53012246 - Photo, 2012
http://www.asiescajabamba.net/2012/01/andinismo-josegalvista-fotos.html - Asi es Cajabamba, 18 January 2012
http://www.asiescajabamba.net/2008/12/parada-de-bandera-en-el-cerro.html - Asi es Cajabamba, 10 December 2008
Ivan Sache, 13 July 2014
---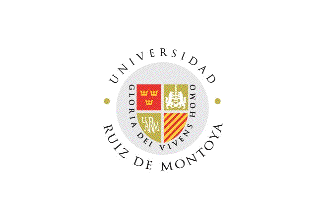 image by Ivan Sache, 13 July 2014
Universidad Antonio Ruiz de Montoya (UARM), based at Lima, is the follower of Jesuit colleges that emerged in Peru in the 16th-18th centuries. Founded in the 20th century, the "Instituto de Humanidades Clásicas" (Institute of Classical Humanities) was reestablished in 1991 as the "Escuela de Pedagogía, Filosofía y Letras Antonio Ruiz de Montoya" (College of Pedagogy, Philosophy and Literature Antonio Ruiz de Montoya, eventually renamed UARM in 2003.
UARM is named for Antonio Ruiz de Montoya, a Lima-borne Jesuit father (1582-1652). Montoya founded several Jesuit missions ("reductions") in Guayra, ruling 39 of them when appointed head of the missions in 1620. In 1631, he organized the transport of 15,000 Christian Indians, threatened by the Brazilian slave hunters,to the safer missions located in Paraguay. Montoya obtained in 1637 from King Philip IV of Spain several privileges and measures of protection for the Paraguyan missions.
Montoya also wrote seminal books on the Guaraní language and a noted history of the Paraguay missions.
The flag of UARM is white with the seal-like emblem of the university in the middle.
The emblem of UARM is made of the university's arms, placed on a grey disk and surrounding by the black writing "UNIVERSIDAD" (top) / "RUIZ DE MONTOYA" (bottom). The arms of UARM are "Quarterly, 1. Gules three crowns or placed two and one, 2. Vert a cauldron flanked by two wolves argent, 3. Vert a monogram "UARM" argent, 4. Gules five bends or. The shield surrounded by the motto "GLORIA DEI VIVENS HOMO" in letters sable."
Source: UARM website
The sinister part of the arms is related to Ignatius de Loyola, see Unidad Educadiva San Felipe Neri for more details.
Photos of the flag are shown:
- on the UARM website, President's introduction
- on the PUCP photo gallery, 5th Joint Symposium of Students in Philosophy, 20-23 October 2009 - Album - Photo
Ivan Sache, 09 January 2010
"Gloria dei vivens hiomo" (Irenaeus, Adversus Haereses [Against Heresies] IV, 20, 7) translates as "The glory of God is a living ma," Irenaeus' aphorism has been the subject of several interpretations. In his "Letter to priests for Holy Thursday, March 17, 1996", Pope John Paul II wrote:
"6. Gloria Dei vivens homo. These words of Saint Irenaeus profoundly link the glory of God and man's self-realization. "Not to us, O Lord, not to us but to your name give glory" (Ps 115.1 j: repeating often these words of the Psalmist, we come to understand that "realizing' ourselves in life has a point of reference and an end which are transcendent, both of them included in the concept of the "glory of God": we are called to make our life an officium laudis".
St. Ireneaus (d. c. 202), Bishop of Lyon, is an early church father. "Against Heresies" was mostly targeted to the Gnosticis, who relied on a secrete, oral tradition, as opposed to the canonical, scriptural tradition controlled by the episcopate.
Ivan Sache, 09 January 2010
There is a picture where full UARM flag is depicted, not only its part:
http://www.utec.edu.pe/noticias-firma-convenio-utec-uarm.html
Zoltan Horvath, 11 April 2012
---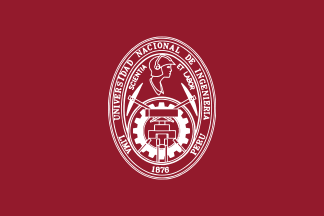 image by Zoltan Horvath, 03 January 2015
"Universidad Nacional de Ingeniería del Perú" (UNI, Peru National University of Engineering) is the main center of education of engineers, architects and scientists in Peru. UNI is formed of the Faculties of Architecture, Urbanism and Art; Sciences; Environmental Engineering; Civil Engineering; Economical Engineering, Statistics and Social Sciences; Electric and Electronic Engineering; Geological, Mining and Metallurgical Engineering; Industry and Systems Engineering; Mechanic Engineering; Petrol and Petrochemistry Engineering; and Chemistry and Textile Engineering. UNI was established in 1955, succeeding "Escuela Especial de Construcciones Civiles y de Minas del Perú" (Peru special School of Civil Construction and Mines), which had been established in 1876 by the Polish engineer Eduardo de Habich.
Source: http://www.uni.edu.pe/ - UNI website
Eduardo de Habich (1835-1909) was born Edward Jan Habich from a family of German origin. He studied at the St. Petersburg Artillery College, fought in the Crimean War and contributed to the building of the Kiev arsenal. Habich graduated at the Paris "École Nationale des Ponts et Chaussées" (today, "École des Ponts ParisTech"), the world's oldest civil engineering school (est. 1747). Back to Poland, he fought in the 1863 uprising, leading a battalion with his brother Gustaw. After the Russian victory, Edward went back to Paris where he served until 1868 as the director of the Polish Superior School established by Polish emigrants. Hired in 1869 by the Peruvian government, Habich revamped the La Oroya railways and was member of the commission that revised the statutes of the Corps of Engineers. President Manuel Prado commissioned him in 1870 to organise a new school of engineering; Habich brought back from Europe several emigrated Polish engineers (Folkierski, Babiński, Kluger, Wakulski) and established in 1876 the forerunner of UNI. Habich founded the Peruvian Geographical Society and presided the Peruvian Association of Engineers. He founded the scientific review "Anales de construcciones civiles y de minas del Perú"
Source: http://isabelsabogal.blogspot.fr/2013/11/semblanza-de-eduardo-de-habich.html - "Semblanza de Eduardo de Habich", by Isabel Sabogal Dunin-Borkowski, "Dom Polski", No. 27, July 2008
The flag of UNI is dark red with the emblem of the university, countercoloured, in the middle.
Photo: http://e-huacho.blogspot.fr/2009/02/se-va.html
Ivan Sache, 03 January 2015
---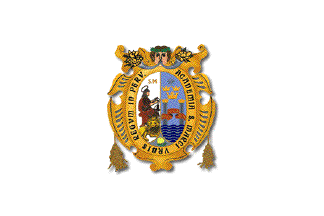 image by Ivan Sache, 31 July 2011
Presentation of UNMSM
"Universidad Nacional Mayor de San Marcos" (UNMSM) is the oldest university in the Americas ("Decana de América"), originating in "Universidad de Lima", founded on 12 May 1551 by Letters Patented signed in Valladolid by King of Spain Charles V. Inaugurated on 2 January 1553, it started with the two Faculties of Theology and Arts; three more Faculties were subsequently created: Law (1571), Canon Law (1571), and Medicine (1634). The University was renamed "Universidad de San Marcos" in 1574. In the 19th-20th centuries, several new Faculties were created, most of them being short-lived and merged together to form bigger entities; in 1969, only the three Faculties of Literature and Humanities, Law, and Medicine remained. The creation of 17 new faculties was approved, in 1983, their number being 20 today. Among the alumni of UNMSM are the three most famous Peruvian writers, the poet César Vallejo (1892-1938), the novelist Alfredo Bryce Echenique (b. 1939) and the novelist Mario Varga Llosa (b. 1936, Nobel Prize in Literature 2010).
Source: http://www.unmsm.edu.pe/ - Official website
Flag of UNMSM
The flag of UNMSM is white with the coat of arms of the University in the middle.
Source: http://www.unmsm.edu.pe/?url=inicio-simbolos
The flag can be seen on images of the ceremony of flag hoisting at the Faculty of Odontology, together with the flag of Peru and the flag of the Odontology Faculty (see below)
https://picasaweb.google.com/109706742705761720188/IZAMIENTODEBANDERA21JULIO2011 - Picasa album, 21 July 2011
Coat of arms of UNMSM
The coat of arms of UNMSM is made of an oval shield divided per pale and grafted in base. The three fields are outlined in gold. The first quarter shows on a white background Evangelist St. Mark clad with a brown tunic and a red cloak, sitting and writing, with a foot on a yellow lion. Above the saint are the golden initials "S.M." [San Marcos]. The second quarter shows on a sky blue background in base the blue waves of the ocean from which emerge two silver columns each with a golden capital, in Corinthian style, tied by a red scroll charged with "PLUS ULTRA" in golden letters. Above the columns are three golden crowns ensigned with a yellow radiant sun shaped like a windrose. The base of the shield shows on a sky blue background a yellow lime fruit with a green stem and small green leaves.The shield is surrounded by a golden ring charged with the Latin writing "ACADEMIA S. MARCI VRBIS REGVM IN PERV" [St. Mark Academy of the Royal Town in Peru] in black letters.
The whole is surrounded by an elaborate orle, from which hang two golden tassels shaped like grapes. The shield is surmounted with the face of a cherub and a laurel wreath. From the cherub's mouth emerge two silver cornucopias, one of each side, filled with products of the soil and laurel branches.
This coat of arms was adopted in 1574, replacing an older coat of arms quite similar in design. The early coat of arms of the University shows dexter the Virgin of the Rosary, the patron saint of the Dominican Fathers, sinister a sun over the waves of the ocean, and in base a lime fruit. The 1578 "Constitutions" say: "in base is a design based on the Royal arms with the pomegranate, replaced here with a lime". The arms are canting, a lime being in Spanish "lima" [but the name of the town comes from a local word and has nothing to do with lime]. The shield is described as crowned with the "laureled face" of an angel or cherub, mentioned in all subsequent "Constitutions", including the "Consolidated Constitutions" released in 1624 in Madrid.
A sealed document dated 1604 shows St. Mark and the two columns but lacks the "laureled face". The shield is represented with lateral ornaments on an engraving by Juan de Noort shown on the frontispiece of Pedro J. Bermúdez de la Torre's "Oración informativa", published in 1699. The coat of arms is also engraved in stone in the chapel of the Virgin of Antigua, where the graduation ceremonies take place, and in the cathedral of Lima, as decided in 1795 by Director of the University, C. Montaño.
Source: http://www.unmsm.edu.pe/?url=inicio-simbolos
The three crowns and the windrose also appear on the coat of arms of Lima.
Debate on the flag of UNMSM
The blog "El Reportero de la Historia" reported in February 2008 a movement to "create" a flag of UNMSM, called by the blog's author "an attempt against history and tradition". It also reports the use in a public ceremony of a "so-called flag", of unknown origin, made of three vertical stripes, sky blue, white and sky blue with the University coat of arms in the middle.
The blog reproduces a public letter sent on 30 January 2008, to the Director of the University by three Professors, Miguel Maticorena Estrada (founder of the Department of History of the University in 1993), Vicente Ugarte del Pino (former President of the Supreme Court of Peru) and Rafael Jaeger Requejo (Professor at the Faculty of Law). The authors of the letter explain why there is no need to create a new flag.
The "flag" ("bandera") used by the university is indeed its "standard" ("estandarte"), more than four-centuries old. The word "bandera" does not appear either in ancient documents or in the "Constitutions" of the University. "Constitutions" 224, from 1581, prescribe that the doctoral students shall raise "the standard ('estandarte') of the University with the Royal arms on one part and the arms of the student on the other part, painted on taffeta". Diego de León Pinelo mentions in a book dated 1648 the "University flag" ("bandera'), which must indeed have been the standard. Resolution No. 10,288 signed on 10 September 1951 by Director Dr. Pedro Dulante commissioned Dr. Jiménez Borja, Dean of the Faculty of Literature, to design "a new flag" ("bandera"), to be used in the next University Olympics. It was proposed to replace the "less visible and anaesthetic old flag" with a new institutional flag described as follows: "A white rectangle charged with the coat of arms of the University surmounted with 10 stars, each of a different colour and representing one of the 10 Faculties composing the university". The colors of the faculties are:
- Law: Green
- Medicine: Purple
- Literature: Pink
- Sciences: Sky blue
- Economic Sciences: Red
- Pharmacy and Biochemistry: Blue
- Odontology: Lilacs (see below, 5.)
- Education: Cedar
- Chemistry: Yellow
- Veterinary Medicine: Red currant (see below).
The proposal was rejected by Dr. Luís A. Eguiguren and the Commission in charge of writing the history of the University. The authors of the letter conclude that there is no need to create a new symbol for the University, arguing that the four-centuries old standard simply needs to be promoted as the institutional flag of the University.
Source: http://www.reporterodelahistoria.com/2008/02/una-bandera-para-san-marcos.html
Oddly enough, the rejected flag proposal seems to have been manufactured. It can be seen on photos taken on 10 June 2011 during the graduation ceremony at the Faculty of Veterinary Sciences (see below)
Source: http://veterinaria.unmsm.edu.pe/foto_graduacion_LXXIII_2011/index.html (Photo No. 4)
Flag of the Odontology Faculty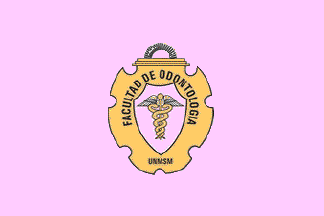 image by Ivan Sache, 31 July 2011
The teaching of Odontology officially started in Peru on 23 July 1868 with the creation of the Odontology Section of the San Fernando University, transformed in 1920 in the Odontology Institute, itself replaced in 1931 by the Odontology School. The Odontology Faculty was eventually created on 29 October 1943 by Law No. 98,938.
Source: http://odontologia-unmsm.edu.pe/ - Official website
The flag of the Odontology Faculty is lilac (the Faculty color, see above) with the coat of arms of the Faculty in the middle. It can be seen on images of the ceremony of flag hoisting at the Faculty of Odontology, together with the flag of Peru and the flag of the University.
The emblem of the Faculty shows on a lilac background a caduceus (with brown staff and snakes and white wings), the whole surrounded by a brown elaborate orle charged with the black writings "FACULDAD DE ODONTOLOGIA" and "UNMSM".
Source: https://picasaweb.google.com/109706742705761720188/IZAMIENTODEBANDERA21JULIO2011 - Picasa album, 21 July 2011
Flag of the Veterinary Medicine Faculty
The Veterinary Medicine Faculty was founded in 1946
Source: http://veterinaria.unmsm.edu.pe/index.htm - Official website
The flag of the Veterinary Medicine Faculty is red currant (the Faculty color, see above, 4.) with the seal of the Faculty in the middle. It can be seen on images of the celebration of the 65th anniversary of the Faculty. The emblem of the Faculty is a white disk charged with a green Rod of Asclepius itself charged with a red "V", thus forming a kind of rebus for "Veterinary Medicine". The disk is surrounded by a yellow ring charged with the red writings "FACULDAD DE MEDICINA VETERINARIA" and "UNMSM".
Source: http://veterinaria.unmsm.edu.pe/foto_lunes_4_2011/index.html (Photo No. 14)
Ivan Sache, 31 July 2011
---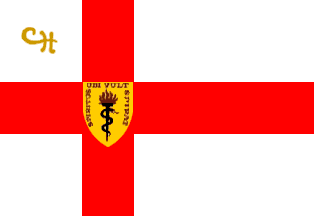 image by António Martins, 23 Feb 2008

Flag of Universidad Peruana Cayetano Heredia is here.
Valentin Poposki, 01 Dec 2005

White flag with red cross throughout offset to the hoist (approx. specs: (8+5+8):(8+5+18); Danish style), golden "CH" script monogram on the upper hoist, and ogival shield on the cross core: Or a serpent Vert coiled on a torch Sable flaming Gules and in orle the Latin sentence «spiritus uni vult spirat» Gules.
António Martins, 23 Feb 2008

Universidad Peruana Cayetano Heredia (UPCH) was founded in 1961 by famous Professors of Medicine from the Faculty of Medicine San Fernando of the National University of San Marcos rejecting the state control imposed by the government on the universities. The main founding fathers were the psychiatrist Honorio Delgado (1892-1969; Director in 1962-1967) and the specialist of altitude medicine Alberto Hurtado (1901-1983; Director in 1967-1969). The university is named for the physician and politician Cayetano Heredia (1797-1861), first Dean of the Faculty of Medicine of the University de Lima, founded on 6 October 1856 upon his request. The university is made today of eight faculties and three institutes, altogether catering some 2,000 students.
The shield includes a flaming representation of the Rod of Asclepius, the symbol of medicine. The Latin motto "Spiritus ubi vult spirat" (Gospel of John 3:8) means "The spirit blows where it wills"
The flag was selected on 6 December 1967 by a jury made of Director Alberto Hurtado, Drs. Hernán Torres, Alberto Cazorla, Leopoldo Chiappo, Carlos Vidal and Mr. Juan Manuel Ugarte Elespuru. The selected design No. 1 was contributed by Pr. Dr. Manuel Chavarri. Used in the official acts, the flag was once damaged and quickly forgotten. Subsequently, the flag of the Tuna University was used when required. Secretary General Juan Jiménez Bendezú noticed that the original flag had never been officially accepted; the University Council was prepared to officially adopt a flag but there was no consensus on the original flag. Five new proposals, contributed by two designers, were evaluated on 27 March 1996 by the University Council, that eventually adopted the 1967 design.
Ivan Sache, 18 November 2010
---