This page is part of © FOTW Flags Of The World website
Pocatello, Idaho (U.S.)
Bannock County
Last modified: 2018-02-09 by rick wyatt
Keywords: pocatello | idaho | bannock county |
Links: FOTW homepage | search | disclaimer and copyright | write us | mirrors

---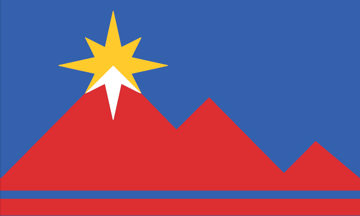 image located by Vexi-News, 25 September 2017
---
---
See also:
---
Description of the flag
The mountains represent the Scout Mountain, Kinport Peak and Chinese Peak, and they also represent industry, recreation and education, according to the flag's description. The compass rose symbolizes the city's role as a trade and transportation hub for rail, road and air. It meets with a mountain peak to form an abstract arrow, which is meant to acknowledge the area's Native American history. The flag's gold and blue colors stand for agriculture and the sky and a blue line near the bottom of the flag stands for the Portneuf River."
(source: www.usnews.com)
- "...blue representing the sky and river, gold representing agricultural ties and red as a subtle tribute to Red Hill in Pocatello". (source:
www.localnews8.com
---
New flag project
In the process of designing a new flag, the city of Pocatello received 709 entries, which were reduced to a final six. The "City of Pocatello Flag Design Ad-Hoc Committee" accepted comments on the six designs up to the end of June 2017 at flag.pocatello.us/.
Vexi-News, 7 May 2017
Extracted from the flag.pocatello.us/ website for archival purposes:
"City of Pocatello Flag Design Contest: 709 Entries":
flag.pocatello.us/

Being (unfortunately) recognized as having the worst flag in a NAVA survey. The link provided above shows the "709 entries submitted to the City of Pocatello Flag Design Committee for the flag design contest, and they may or may or may not be considered for the final flag design." Interesting to mention is that they are categorized under the following criteria:
- Professionals
- Ages 18+
- Ages 13-17
- Ages 7-12
- Ages 1-6

The guidelines are the following:
Flags should be simple – The flag should be so simple that a child can draw it from memory
Flags should have meaningful symbolism – The flag's images, colors, or patterns should relate to what it symbolizes
Flags should use only 2 to 3 basic colors – The number of colors on a flag should be no more than three, which contrast well and come from the standard color set (red, blue, green, black, yellow, and white)
Flags should NOT have lettering or seals – Flags should never use writing of any kind or an organization's seal
Flags should be distinctive or be related – Flags should avoid duplicating others, but use similarities to show connections"

The contest is overseen by a "Flag Design Ad Hoc Committee, whose purpose is to recommend designs for an official city flag. The Pocatello City Council (official website: www.pocatello.us/) will then review the recommendations and vote to approve the final design. Members of the Ad Hoc Committee must reside within the Pocatello city limits. The committee is headed by city public information officer, Logan McDougall. Here are some remarks by Mr. McDougall (soundcloud.com/byu-idaho-radio/the-worst-flag-in-america) with the story behind the contest, which started as a response to that NAVA survey and the (negative) publicity the city received, starting in 2016. It is a private citizen's initiative. The committee was advised by Roman Mars, who gave the lecture on flag design. The purpose is to go from "last to first" on flag design. The committee members are: "Bill Stanton, Flag Design Ad-Hoc Committee member; Courtney Fisher, owner, FishTale Creative; Greg Gunter, president, Rave Communications; Imri Larsen, branding creative director and former Pocatello resident; Jennifer Erchul, owner, E-Squared Creative; John Hartvigsen, flag expert; Meagan Milder, Flag Design Ad-Hoc Committee member; Mike Bingham, art educator and former Pocatello resident; Mike Sanders, co-owner, MSVM Group; Dr. Paul Sivitz, professor of history, Idaho State University; Presley Brown, Flag Design Ad-Hoc Committee Member; Shiloh Armstrong, owner, BengalWorks Graphics; Stuart Summers, associate vice president for marketing and communications, Idaho State University; Torgesen Murdock, award-winning artist."
Source: idahostatejournal.com/members/pocatello-flag-redesign-committee-recruits-experts-to-help-narrow-down/article_eccaa585-09de-5849-8ac4-7f6b21e342c1.html
www.pocatello.us/594/Flag-Design-Committee
Interesting to notice is that the Pocatello logo [on the old flag] is copyrighted to the (Greater) Pocatello-Chubbuck Chamber of Commerce, as seen here: www.idahostatesman.com/news/state/idaho/1qvgjx/picture72030512/alternates/FREE_1140/pocatello%20flag (source: www.idahostatesman.com/news/state/idaho/article72030522.html). Also from this source is the fact that "the current flag, designed as a logo in 1999, (and) was never fully authorized as a flag but just ended up as one. However, the flag – which used to fly only outside the wastewater treatment facility – doesn't fly anywhere in Pocatello, though the logo "Proud to be Pocatello" can be found around the city."

The City received "entries from a total of 28 countries and 31 (U.S.) States" (source: www.kpvi.com/news/over-flag-designs-submitted-for-the-city-of-pocatello/article_168be1dc-fad0-11e6-b973-ff8b27801256.html and the final day for submitting proposals was on November 30, 2016, although the original deadline was December 2."Here's an actual flying flag of Pocatello before the new design is approved:
bloximages.chicago2.vip.townnews.com/idahostatejournal.com/content/tncms/assets/v3/editorial/a/89/a89e5a5b-1e2c-5f71-a338-30b6fa312986/583f9f57efeca.image.jpg?resize=1200%2C795
(source: idahostatejournal.com/community/final-day-to-submit-design-for-pocatello-flag-is-friday/article_df52635b-73a5-5aee-90ea-a7442744017e.html)
Esteban Rivera, 7 May 2017

From http://www.kpvi.com/news/local_news/city-of-pocatello-is-one-step-closer-to-getting-a/article_24290110-636e-11e7-8f89-37220fd8ad1b.html www.kpvi.com:
The City of Pocatello is one step closer to getting a new city flag. After several months of flag design submissions from all over the world, the flag committee finally narrowed it down to one flag for the City of Pocatello's new flag. The final flag design is called 'Mountains Left.'

If approved by city council, that flag will fly high on a flag pole in front of city hall. Some community members are pleased with what the new flag design represents. "The flag looks nice. I love Pocatello. It symbolizes a lot of great things like the river, the railroad, the peaks of the mountains, all the trails. It think it looks nice," says Greg Hillary, Pocatello.
Last year the city was approached by local residents asking them to change the flag after the city was called out by a national radio host, Roman Mars, for having the worst flag in North America.
"So I'm reminded back to a statement from Roman Mars 'Ted Talk' in there and the gist of it is if you have a good city flag, you have a point for which citizens and residents can rally around. We can all rally under that banner that represents our city," says Logan McDougall, City of Pocatello.

The City of Pocatello received over 18 hundred responses on the final six flags and one out of every three gave 'Mountains Left' a five star rating.
"So there's three peaks on the 'Mountains Left' flag. Those represent the three peaks that are around our community. We got Scout Mountain, Chinese Peak and Kimport. They also symbolize three pillars of our economy in industry, education, and recreation. The compass rose that sits on top of the tallest peak, that serves as, it symbolizes the city's role in transportation," says McDougall.
The final flag design will be presented to the city council next Thursday.
They will consider it and possibly give final approval to adopt the flag.
Dave Fowler, 9 July 2017

During Pocatello's City Council Session of July 13, it is reported on its agenda (www.pocatello.us) on item No. 5, the following:
"5. POCATELLO FLAG DESIGN COMMITTEE UPDATE"
Members of the Flag Design Ad-Hoc Committee will present the Committee's recommendation for the new flag for Pocatello.
Documents: AGENDA-ITEM-5.PDF (pocatello.us)"

The Agenda Item 5 PDF document is a summarized paper, 12-pages long, titled "From worst to first!" that describes the evolution from a city's worst flag design labelling, up to its contest for a new flag, going through raising awareness of its poor flag design as well as incorporating elements from its heritage and values to portray them on a new proper flag selected by popular vote and submitted by a formal flag design committee. It also mentions that this was the winning design with 683 5-star ratings (from a rating system of 0.5 to 5 ), 446 from residents.
Source: www.idahostatejournal.com/

To raise awareness, they even have a hashtag: #newflagforpocatello (twitter.com) to receive proposals and comments as well."

Finally, on July 20, the City Council approved and the Mayor's office announced it had chosen its new official flag (static.lakana.com) source: www.localnews8.com as announced here:

"Posted on: July 20, 2017. Pocatello City Council Approves Flag Resolution, New and Official City Flag to be Raised.

The Pocatello City Council has put its seal of approval on the effort to raise a new and official flag for the city.
At Thursday's City Council meeting, council members voted to approve a resolution officially declaring the flag with the working title of 'MountainsLeft'.

"This has been a worldwide effort that has exceed our wildest expectations," said Logan McDougall, Flag Design Ad-Hoc Committee Chair. "On behalf of the committee, I'd like to thank everyone who submitted a design or provided their input during the public comment periods."
"I am grateful for the work the volunteer committee members put into this effort, as well as for the time the expert panel members spent on the project," said Mayor Brian Blad. "I'm excited we'll have a flag that our community can rally behind.""
Sources: pocatello.us and www.localnews8.com
Esteban Rivera, 22 July 2017

From idahostatejournal.com, 19 September 2017: "Pocatello no longer has the worst city flag on the continent"
Vexi-News, 25 September 2017
---
Old flag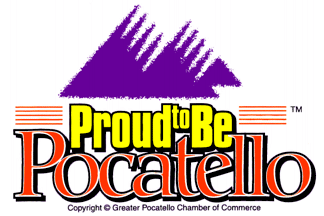 image by António Martins-Tuválkin, 12 May 2008
based on NAVA website

From www.idaho8.com/8_stories/2001may/02/news.htm#4City_Flag:

Pocatello to unveil new city flag (2 May 2001)
It may not be as earth-shaking as nuclear power, but the Pocatello Chamber of Commerce is set to unveil a new city flag at the city clean-up this weekend. It's the same "Proud to be Pocatello" logo the chamber is sponsoring on signs in the old town area. One minor problem: the city council hasn't adopted the flag yet. Mayor Anderson will ask them to take that up at tomorrow night's city council meeting.
loclocated by Dov Gutterman, 30 December 2002

The logo of Pocatello was made by "Greg Gunter (here's an interview with him: HREF="http://www.ktvb.com/entertainment/places/idaho-life/fixing-pocatellos-worst-in-the-country-flag-failure/436153933">www.ktvb.com/entertainment/places/idaho-life/fixing-pocatellos-worst-in-the-country-flag-failure/436153933), which includes both copyright and trademark symbols, although the logo was donated.
Gunter's marketing business (called Rave Communications (established in 1998) designed by Michael Jones, a graphic designer at Rave, who created the artwork as a logo for a city pride campaign back in 1999 (and it came into effect in 2000); then, somebody literally ran it up the flag pole. "This art was never intended as a flag?" (Mo) Rocca (CBS news correspondent) asked. "Exactly," said Gunter. The flag actually flew, ironically enough, over the sewage treatment plant! That flag was taken down years ago, and a local committee is now working on a redesign. It's an issue the entire city is rallying behind. "Michael has done hundreds of logos over the course of his career. Just a few examples include: The state of Idaho's centennial celebration theme art, the city of Pocatello's logo, a new design of the International Paleontological Society's graphic identity (the first in more than a century), trademarks for many large corporations and even a website that the International Economic Development Council recognized as the best economic development website in the world the year it was created, winning out over the website for the country of Wales. Local ballet patrons will recognize Michael's work in the beautiful material produced for the annual Rotary Club of Pocatello's presentation of "The Nutcracker" ballet — again, work donated by Rave Communications. On May 5, 2001, the City of Pocatello raised the first "Proud to Be Pocatello" flag at City Hall prior to the citywide clean-up and the kick-off for the "Proud to Be Pocatello Week" celebration".
Sources: www.cbsnews.com/news/some-not-so-grand-old-flags/ and idahostatejournal.com/opinion/columns/proud-to-be-pocatello/article_cfc8bd99-5211-518e-b254-7bf4b465e0e0.html
(article published on April 22, 2016 by Matt Hunter, President of the Pocatello-Chubbuck Chamber of Commerce).

Esteban Rivera, 7 May 2017