This page is part of © FOTW Flags Of The World website
Unidentified Flags or Ensigns - Page 2 (2020)
flags submitted in 2020 - Page 2 of 2
Last modified: 2020-07-31 by pete loeser
Keywords: ufe | unidentified flags | 2020 |
Links: FOTW homepage | search | disclaimer and copyright | write us | mirrors

---
Please note our Policy for Submissions and Enquiries.
Below is a series of images of flags that have been provided to FOTW; some we have recognized, and some we have been unable to recognize. If you can help us identify any of these flags, please let us know! Contact the: UFE Editor.
Identification Key:
= Positive ID (Positive Identification)
= Tentative ID (Tentative Identification)
= Some Speculation
---
20-20. Cryptic UFE located in Akron Garage Some Speculation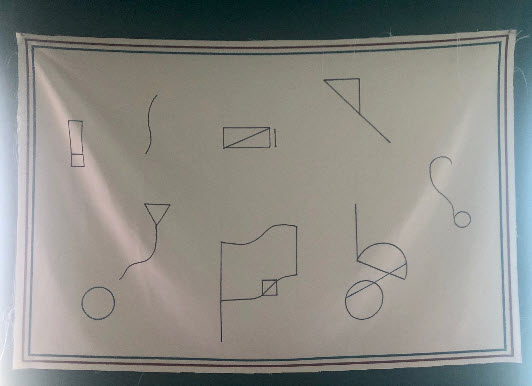 Image from Corey Farrow, 16 June 2020
This flag was found at a garage sale in 2019 located in Akron, Ohio. The purveyor did not have any more information regarding the flag. I am unsure of the correct orientation.
Corey Farrow, 16 June 2020
I'm not sure this is even a flag, but a puzzle it is.
Pete Loeser, 18 July 2020
I can't recall when we've seen this one before, but I doubt that it's a flag. Since it's pinned on one side only, maybe Corey can look at the reverse for any information on its "flaginess". I doesn't seem to be hemmed, but maybe there is something else to redeem it.
Peter Hans van den Muijzenberg, 19 July 2020
---
20-21. Unidentified Shipping Line Crockery Some Speculation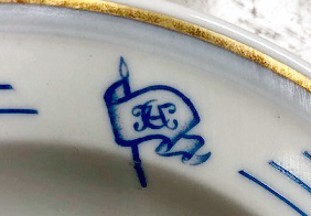 #21d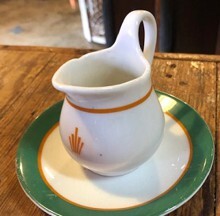 #21e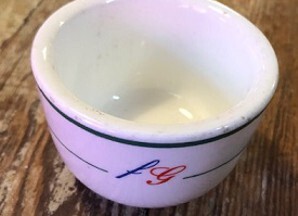 #21f
Images from Adrienne, 19 July 2020
I wonder if you'd be able to identify these funnels or logos of (what I think could be) shipping lines or ship management companies?
These are all found on various pieces of crockery (mugs, plates, bowls) that we salvage off of ships that have been scrapped.
Adrienne, Nautical Antiques & Tropical Decor, 18 July 2020
I agree that these pieces are probably shipping line crockery, but I cannot identify any of them myself. I did check an extensive collection of shipping line funnels and flags that I have looking through the C, H, F and G areas for the two pieces with letters, and found nothing in over 3600 shipping lines beginning with these four letters, so I can say that these are not well-known shipping lines!
Rob Raeside, 19 July 2020
We're talking about ships that have been scrapped. At that point it's quite likely that the entire history of the ship was known. Taken from these ships are pieces of crockery, the purpose of which pieces are most likely known as well. Yet, somehow, these pieces end up with no documentation at all, and not even the magic word and the promise of trying to do better.
In fact, in the shop the pieces seem to have countries of origin, whereas here they don't. It would be nice to get all available information. It would also be nice to have a saucers with the emblem in full view rather than one creamer with the emblem disappearing around the bend; if there is a reason to name one piece a "sake cup", that would also be information. Sure, it may be that all that eventually leads to nothing. But why slim down the odds?
Peter Hans van den Muijzenberg, 18 July 2020
---
20-22. United Kingdom UFE
Image from Klaus-Michael Schneider, 31 July 2020
I took this snapshot in Kidderminster in Summer 1999. The flag looks similar to the county flag of Dorset, but the fimbriation of the cross is "not perfectly red". Can anybody assist
Klaus-Michael Schneider, 31 July 2020
---
20-23. Identifying a Coat of Arms.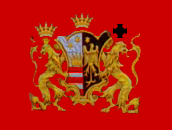 Image from Eugene Ipavec, 31 July 2020
So I have a question regarding a fictional coat of arms from the 1953 romantic-comedy musical "Call Me Madam," which is set mainly in a small European duchy called Lichtenburg. (presumably a portmanteau of Liechtenstein and Luxembourg.) The duchy's arms appear in a number of scenes; they are featured on a flag in one scene, though that particular flag is defaced with a text (in English, clearly meant for the movie's domestic audience.) But a graphic of this flag without text also appears on the door of the royal limousine in a later scene, which seems pretty official.
The flag is red with the coat of arms. These are presumably fictional, but they seem to be authentically heraldic enough that they might have been adapted from some real model. I'm curious if anyone recognizes them? They are divided per pale: azure two golden stars above a crown above three red and two azure stripes, and burgundy a golden eagle displayed under one golden star. The baroque shield is ornate and supported by two lions rampant regardant, the left doubly crowned and the right with a black "fat" cross pattée hovering above its head. Another crown surmounts the shield. (All four crowns are of an identical "antique" type.)
This is the best graphic I could extract from the movie.
Eugene Ipavec31 July 2020
---