This page is part of © FOTW Flags Of The World website
Unidentified Flags or Ensigns - Page 1 (2020)
flags submitted in 2020 - Page 1
Last modified: 2020-02-14 by pete loeser
Keywords: ufe | unidentified flags | 2020 |
Links: FOTW homepage | search | disclaimer and copyright | write us | mirrors

---
Please note our Policy for Submissions and Enquiries.
Below is a series of images of flags that have been provided to FOTW; some we have recognized, and some we have been unable to recognize. If you can help us identify any of these flags, please let us know! Contact the: UFE Editor.
Identification Key:
= Positive ID (Positive Identification)
= Tentative ID (Tentative Identification)
= Some Speculation
| | | |
| --- | --- | --- |
| Unidentified Flags on this Page: | | Unidentified Flags on other pages: |
---
20-1. Possible Alaskan Shipping Company Flag Positive ID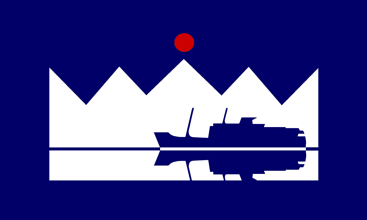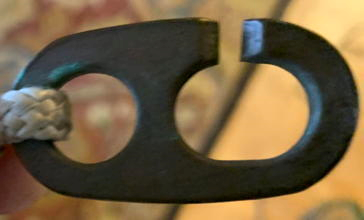 Example of Inglefield clip
Image by Dave Martucci, 4 January 2020
My friend Greg has an unidentified flag. I have made a drawing of it, attached, and hope someone can identify it. He says he thinks it came from Alaska or some such place but knows nothing about it for sure.
It is a standard size flag, about 3' x 5' (about 0.9m X 1.5m), with a 2" (5cm) canvas header that encloses a nylon rope that runs about 2' (about 0.6m) below the flag. It has Inglefield clips (photo of one attached) at the top and bottom of the rope. The flag is printed bunting, looks like a synthetic-wool blend. Don't know how old it is but it is in excellent condition.
Dave Martucci, 4 January 2020
I tried looking for information on this by looking for tugboats, fishing companies, even cruise lines and boat rides, but found nothing. Perhaps your friend can give us a location or some sort of hint so we can try to search for more information on such flag.
Regarding the silhouette of the ship on the flag, it is quite big, but not that big as to infer it is a shipping company, like Pete mentions. One can also discard it is a tugboat as well. I myself am inclined to believe it is a local riding boat, but we'll see if your friend can point to at least some coordinates or city/town where he spotted such flag.
Esteban Rivera, 12 January 2020
My friend is a boat builder and teacher here in Maine and he traded a Maine Flag for this one, but neither he nor the other person had any idea of what the flag is. Given the Inglefield clips, likely it was not made in the USA; more likely Canada or even the UK. Still, no idea where it came from.
Dave Martucci, 12 January 2020
Ok, so it is definitely a sport fishing boat (judging from the silhouette) and my best guess is that it is probably either a Canadian or Alaskan flag (from the blue background and the red dot, which might resemble the sun in that part of the globe).
Esteban Rivera, 13 January 2020
This so far unidentified flag is the house flag of Hebridean Island Cruises Ltd, a British company which owns and runs the small cruise ship MV Hebridean Princess (which the flag depicts).
MV Hebridean Princess is a former car ferry built in 1964 which under the name RMS Columba served the Hebridean Isles. In 1988 it was transformed into a luxury cruise ship and since provides exclusive cruises to the Hebridean, Orkney and Shetland Islands and to Norway. Twice, in 2006 and 2010, the British monarch, Queen Elizabeth II, chartered the ship for private cruises to the Outer Hebridean Isles. A luxury cruise ship, indeed


U. Beck-Wyler, 13 January 2010
Please note that the MV Hebridean Princess was formerly known as the RMS "Columba". Columba is a name rooted in Scottish history and must not be mistaken with the American "Columbia". Columba, or Columbkille, was an Irish abbot and missionary (c521-c597) who was credited with spreading Christianity in what is today Scotland.
Urs Beck-Wyler, 25 January 2020.
---
20-2. Unidentified NATO Flag

Positive ID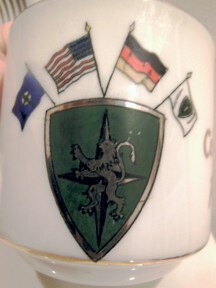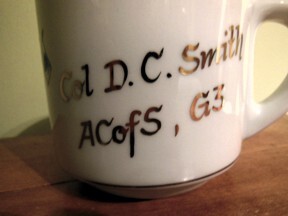 Images from Patricia Parker, 7 January 2020
I was perusing your website trying to sort out flag ID's on a vintage mug I own. I have determined the mug was made prior to 1972. I can ID the NATO, US and German flags, but I'm still searching for the lion crest and what all this represents. I wondering if you might know?
Patricia Parker, 7 January 2020
Looks like the NATO, United States, German and the US Army Central Group (CENTAG) flags.
Dave Fowler, 7 January 2020
The Central Army Group (CENTAG) was a military planning group, comprised of military personnel from Germany, France, and the United States, that was headquartered at the Campbell Barracks in Heidelberg, Germany, between 1950-1993 as part of the joint NATO Allied Land Forces of Central Europe. Later, in August 1961, the CENTAG headquarters moved to Hammonds Barracks in Seckenheim, Germany. Apparently this cup belonged to a Colonel D.C. Smith who was the Assistant Chief of Staff or G3 sometime during these years.
Pete Loeser, 7 January 2010
---
20-3. UFE Family Hand-Me-Down Heirloom Positive ID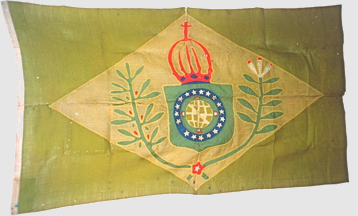 Image from Prentiss Cole, 14 January 2010
The flag pictured has been handed down through our family. Can you identify it? We would appreciate any help you could give us.
Prentiss Cole, 14 January 2010
That is a flag of the Empire of Brazil (1822-1889). However the manufacturer made some mistakes in the design.
Francisco Gregoric, 15 January 2020
---
20-4. German Imperial Flag with Imperial Eagle. Tentative ID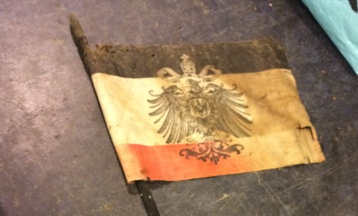 Images from Ken Robertson, 16 January 2020
I have inherited this flag from my father-in-law and would like to find out something of it's history. It's a small pendant on a wooden staff with a fashioned spear head. Hopefully, you can shed some light on it's origin.
Ken Robertson, 16 January 2020
Looks like an Imperial German table flag (Reichsadlerflagge) or possibly a parade flag since it is attached to an approximately 20-25 inch long stick. It will be quite hard to determine exactly where, for what, or when it was used (could be anywhere between 1870-1918, or later).
Pete Loeser, 16 January 2020
---
20-5. Unidentified flag in a Bag. Positive ID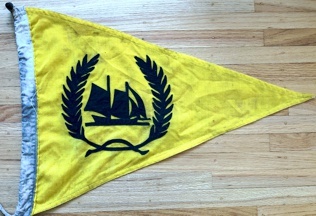 Image from Rob Cunningham, 27 January 2020
I found this old flag/burgee in a historic Great Lakes Schooner in a bag with many other flags, most of which I have been able to identify. Any clue as to its meaning? I looked in a 1950's copy of Lloyd's register, but couldn't find this one. Can anybody help?
Rob Cunningham, 27 January 2020
This is not a flag I recognize, but it doesn't look like it was at home in the Great Lakes! From the design of the ship, it appears more Asian to me.
Rob Raeside, 27 January 2020
I think it is the burgee of the Grenada Yacht Club, St George's, Grenada, West Indies. I found it in the burgee collection of the Grand Traverse Yacht Club as F9; but the club website, linked from the GTYC site, does not seem to show the burgee (using the search function results in 0 hits) "except" in the website's favicon, which just shows the vessel on the burgee.
Ian Sumner, 29 January 2020
I can't make out the exact origin, but I can add another burgee exchange between the Stillwater Yacht Club and the Grenada Yacht Club.
Peter Hans van den Muijzenberg, 1 February 2020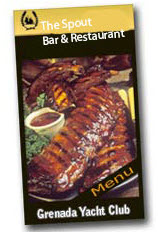 Image from Russ Adams, 2 February 2020
The Grenada Yacht Club's website does show an image of their restaurant's menu, with the club emblem in colors matching the pennant in the upper left corner of the menu. It's small, but seems to confirm the identification.
Russ Adams, 2 February 2020
---
20-6. Mali Coat-of-Arms with Crocodiles? Positive ID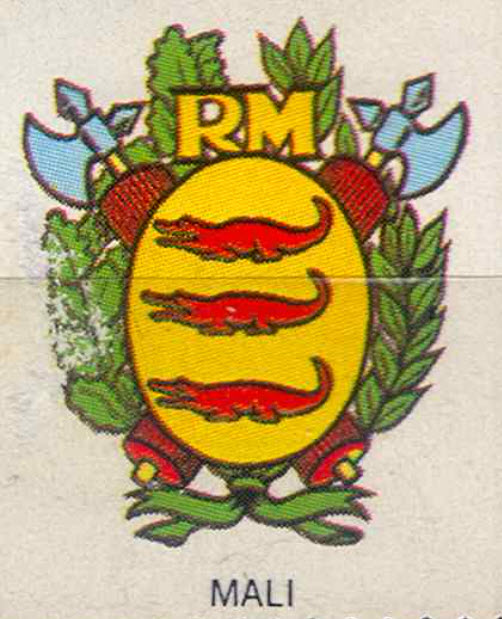 Image from Viktor Lomantsov, 7 February 2020
Does anybody know what this is? Is it really the COA of Mali?
Viktor Lomantsov, 7 February 2020
It is coat of arms of Bamako, the capital city
Valentin Poposki, 7 February 2020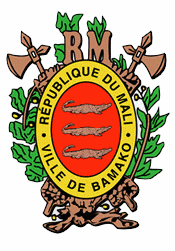 Image from Jean-Marc Merklin, 7 February 2020
It looks like the arms for Bamako
Jean-Marc Merklin, 7 February 2020
---